Welcome To The Piano Studio Home Page
Experience the Joy of Playing the Piano

Thank you for visiting The Piano Studio website. The Mission of The Piano Studio is to provide high-quality, affordable group piano classes and private lessons to adults and minors with an emphasis on personal instructions so students can experience the joy of playing the piano. Our students' age ranges from a mature 4 or 5 to a youthful 80 (or better). Each school session ends with a potluck party and an optional recital at a local church. All students, including their family and friends, are welcome to attend this special event.
Winter session started the week of Jan. 6, 2014 and will continue till the week of March 10, 2014. Spring session will start the week of March 24, 2014. Click here to view the Spring Schedule. Pre-registration is REQUIRED. Enrollment is LIMITED. Private lessons require an appointment with the instructor before starting the lessons.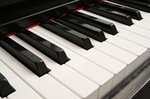 Instructor: Sam Yip
Please email the instructor at: yippiano@gmail.com if you have any questions about the group classes or private lessons. Be sure to indicate which class you would like to take.
SPRING 2014 CLASS INFORMATION
Group classes are either 80 min. long (Mon. 5:30-6:50 pm, 7:00-8:20 pm; Tues. 7:00-8:20 pm; Thurs. 5:30-6:50 pm) or 50 min. long (Tues. 6:00-6:50 pm).

Private lessons are 25 or 50 minutes long once a week for 8 weeks. Digital pianos are provided to ALL students during classroom instructions. Headphones are also available. Minors are accepted if they can benefit from the program and with the consent of the parent. Students under 14 years of age are required to have a responsible adult present during private lessons. Click here to view the Spring 2014 Schedule.
Our Potluck & Recital on Saturday, Dec. 14, 2013 was a success. 26 students performed at the recital and more than 80 people attended the event. Click here to view a copy of the program and Click here to view a list of performers.
We will have our 14th Potluck Party / Recital on Sat., Mar. 15, 2014 (12:30-3:30 pm) at Community of Christ Church in
El Cajon. All students, including their family and friends are invited to attend this special event.